The Finance Center at Reeder Chevrolet is a Great Place for All Your Auto Loan and Lease Needs
A
re you from Sevierville, TN and in the market for your next vehicle? If you are, chances are you've probably thought about what you are going to do regarding financing. There is the option of going to your local bank or credit union and comparing their rates to several competitors, but that takes time, and you might have questions. If you want to save yourself some time, hassle, and possibly money, you should consider doing your automotive financing with the finance center at Reeder Chevrolet, located at 4301 Clinton Highway in Knoxville, TN. We offer many advantages over trying to navigate the auto financing landscape by yourself.
The Benefit of Experience
Our finance professionals have been serving customers from the Maryville, TN area for a long time and know the ins and outs of auto l...

Reeder Chevrolet Service Center: Giving Your Car the Service it Deserves and Respecting Your Time
Life can be busy. It seems that there is always something that needs your immediate attention: you need to pick up the kids, get groceries, go to a school event. Sometimes taking care of your vehicle seems like a hassle or something that you can push aside. What you really need is a service center that understands you have a busy schedule and respects it. The service center at Reeder Chevrolet, located at 4301 Clinton Highway in Knoxville, TN, is that place. Our service team is committed to getting you back on the road as quickly as possible, while making sure that your maintenance or repair is done to the highest-quality.

A Wide Range of Services
When you come to the service center at Reeder Chevrolet from Sevierville, TN, you will find that there is no task that our team can't take on. Wh...

Why Buy a Used Chevrolet Vehicle from Reeder Chevrolet?
Chevrolet vehicles have a longstanding reputation for strength, endurance, and versatility. If these are qualities you crave and are looking for in your next vehicle, browse the selection available at Reeder Chevrolet.
Below are the top three reasons we are beloved by Knoxville and Sevierville customers (and what you can look forward to when you visit):
#1: The Impeccable Selection
Our Chevrolet inventory spans body styles and trim levels to give our customers the variety they crave. If you're looking for a more compact vehicle with superior mileage, check out a Chevrolet car or sedan like the 2-door, 4 passenger Chevrolet Spark or the 4-door, 5-passenger Chevrolet Impala sedan.
Drivers looking for a more accommodating ride with a bit more strength and function should look to a Chevrolet cro...

Top Reliable Chevrolet Models to Buy in Knoxville, TN
When buying a new vehicle, it is important that it will hold up throughout the years so that you can drive further confidently. Whether you are looking to drive a car, SUV or truck Chevrolet is proud to be putting vehicles on the road that are keeping drivers safer and happier. We can ensure top quality materials and dependability throughout some of our most popular models listed below:
Chevrolet Bolt
Chevrolet Colorado
Chevrolet Silverado
Chevrolet Equinox
Chevrolet Malibu
Chevrolet Protection Plan
While our models are reliable Chevrolet has also created Chevrolet Protection. Chevrolet Protection gives you added confidence and comfort during your Chevrolet ownership experience. From Chevrolet Protection Plan to Chevrolet Tire and Wheel Protection Plus, you can take your Chevrolet on long...

Determining Your Credit Score and Its Impact on the Car-Buying Process
You may have dreaded this scenario: after shopping high and low for your ideal car, you request financing for it, only to be turned down because of a low credit score! Don't let that happen to you. If you know your credit score, and know how to improve it, you can have a much more solid footing when you come to Reeder Chevrolet and ask for financing. We realize that there are numerous factors that could cause you to have a poor credit rating, and some of them may be beyond your control. The finance specialists at Reeder Chevrolet are meticulous when it comes to helping you with financing. We'll do whatever is necessary to assist you in developing a financing solution that works for your lifestyle and budget. Our finance pros will go over all your loan or lease options in detail, and advise...

Experience the Bigger, More Versatile 2019 Chevrolet Silverado 1500 Pickup Truck
Most people want a pickup truck that can tow or haul large loads. But many others use their truck every day to commute to work or run to the store. If you want a truly versatile pickup that's capable, convenient, and comfortable, get the 2019 Chevy Silverado 1500. The new Silverado 1500 is lighter and more efficient than ever. Its rugged look features upright styling and a blocky front end with a massive grille. Its fenders bulge noticeably front and rear, and the square-cut wheel cutouts have given way to rounded ones. The 2019 Silverado 1500 is roomier and tougher than the outgoing model, and its available now at Reeder Chevrolet.
Despite its size, the 2019 Chevrolet Silverado 1500 rides more comfortably due to its well-tuned suspension. It can also tow and haul more than most full-size ...

Spotlight on the New Chevrolet Suburban: What's Under the Hood and In-Cabin for 2019?
If you're in search of a pro hauler that's proven dependable by having been down many-a-road, you needn't look further than Chevy Suburban. It's one of what our automaker bills the original SUVs, having debuted in 1935 and soon become one of the longest-running models in not only the full-size segment but also the auto industry. Now that it's back for 2019 in its iconic LS, LT and Premier trims, we've been getting a lot of questions about what it has to offer. Luckily for you, the experts at Reeder Chevrolet have the scoop, and before you stop by to check out the real thing here on Clinton Highway in Knoxville. Take a look.

For one, a 355-horsepower, 5.3-liter V8 workhorse comes standard, ready to churn out 383 pound-feet of torque. Paired with either a six- or 10-speed Hydra-Matic auto tr...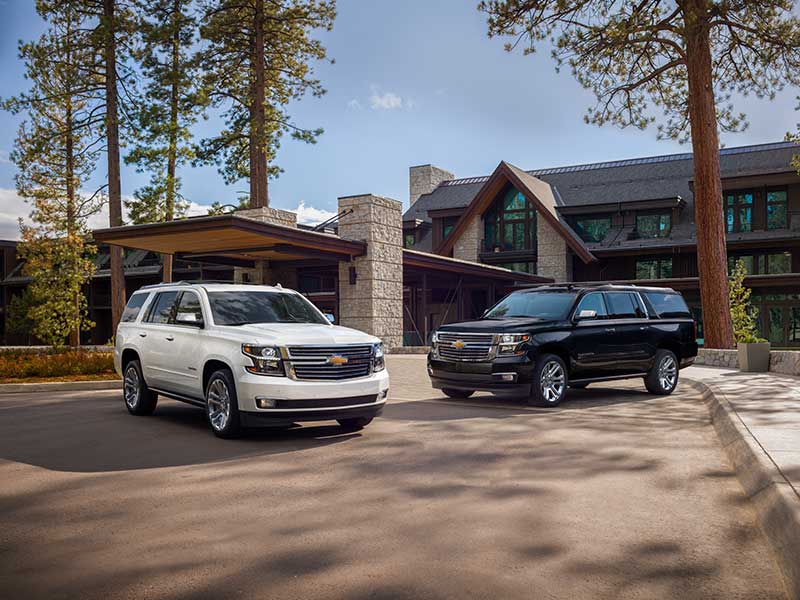 2019 Chevrolet Tahoe Getting a Premier Plus Special Edition
No sooner had it hit our showroom floor here in Knoxville, TN than the latest among our automaker's stalwart lineup of full-size SUVs was already showing the results of popular demand.

Not only was a powerhouse 420-horsepower, 6.2-liter V8 more widely available, paired with an efficient Hydra-Matic 10-speed automatic transmission and ready to dish out 460 pound-feet of torque for the trip out to Oak Ridge. Nor was it only the case that a performance-calibrated Magnetic Ride Control was available, prepared to make that stopover in Clinton an enjoyably comfortable one. No -- the new Chevy Tahoe was also getting a Premier Plus special edition, and we were excited to see what it had in store. Now, you can too.

For one, 2019 Tahoe models equipped with the package deal get fetching style highlig...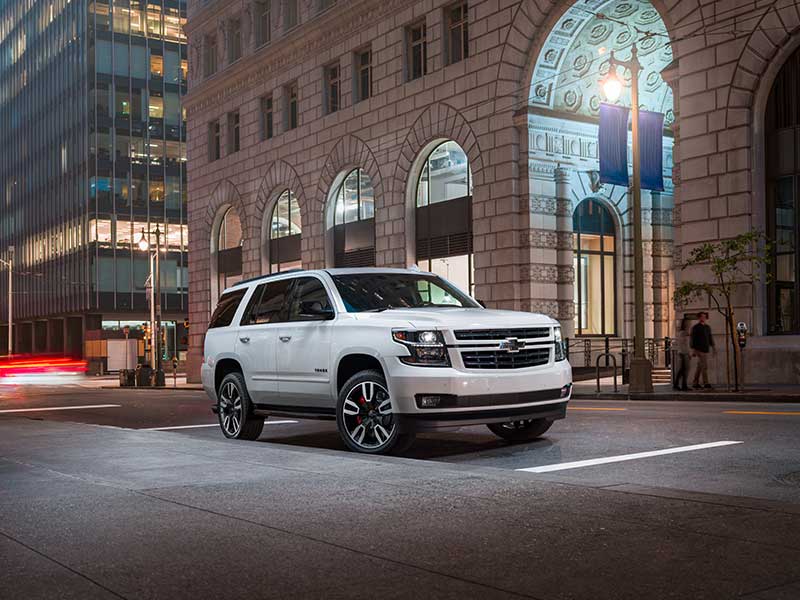 What Can The 2019 Chevy Silverado 2500HD Tow?
Picture a heavy-duty pickup near the top of its class. Now, equip it with an available Duramax 6.6-liter Turbo-Diesel V8 powerhouse, ready to churn out 445 horsepower backed by a monolithic 910 pound-feet of torque. Pair it with a super-efficient six-speed Allison auto transmission. Are you thinking something in the Chevy Silverado HD line? You're spot-on.

For 2019, our automaker's midrange full-size truck is back, and as capabilities go, it's ahead of the curve. The big question on everyone's minds, however, is what kind of weight such a monster can shoulder. Take it from the experts here at Reeder Chevrolet: it's a boatload (literally -- and plenty else, too).

Given the mentioned specs, 2019 Silverado 2500HD can haul payloads up to 3,276 pounds maximum, for one. Go with a crew cab c...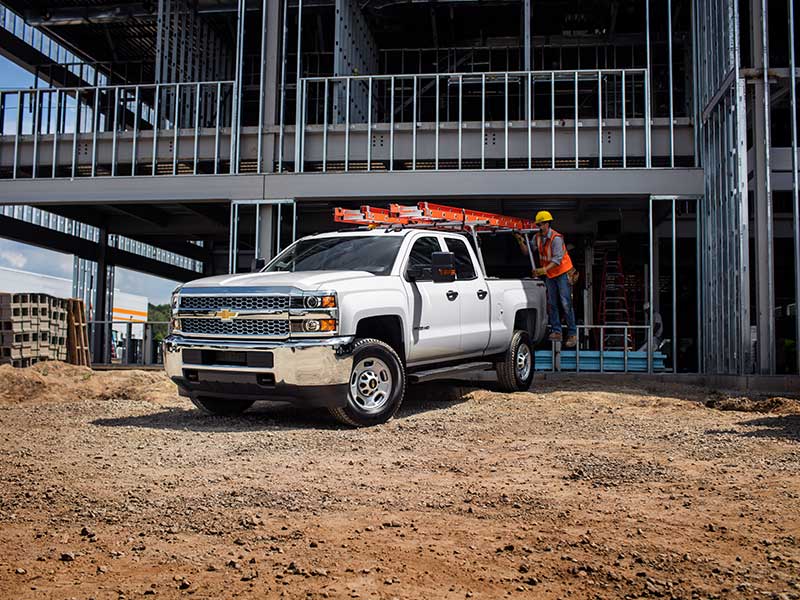 Chevy Silverado 1500 is Getting an All-New Turbocharged Engine for 2019
Our automaker's flagship light-duty pickup just recently arrived here in Knoxville, and its 2.7-liter dynamo's already showing its stuff as a welcome improvement over the last model year's standard 4.3-liter V6. Sure, you can check it out firsthand here at Reeder Chevrolet -- you'll find it standard in Silverado 1500 LT and RST trims, after all -- but we've got the scoop for you right here on the Web before you do. So, what makes it so special?

It'll offer approximately 14 percent better torque than before, for one, rated at a capable 348 pound-feet -- plenty of turning and pulling power for jobs around Sevierville. Secondly, you can expect more horsepower, 310 churning under the hood, to be sure -- great for powering over the terrain near Oak Ridge. Next, like all Chevy trucks, it'll...